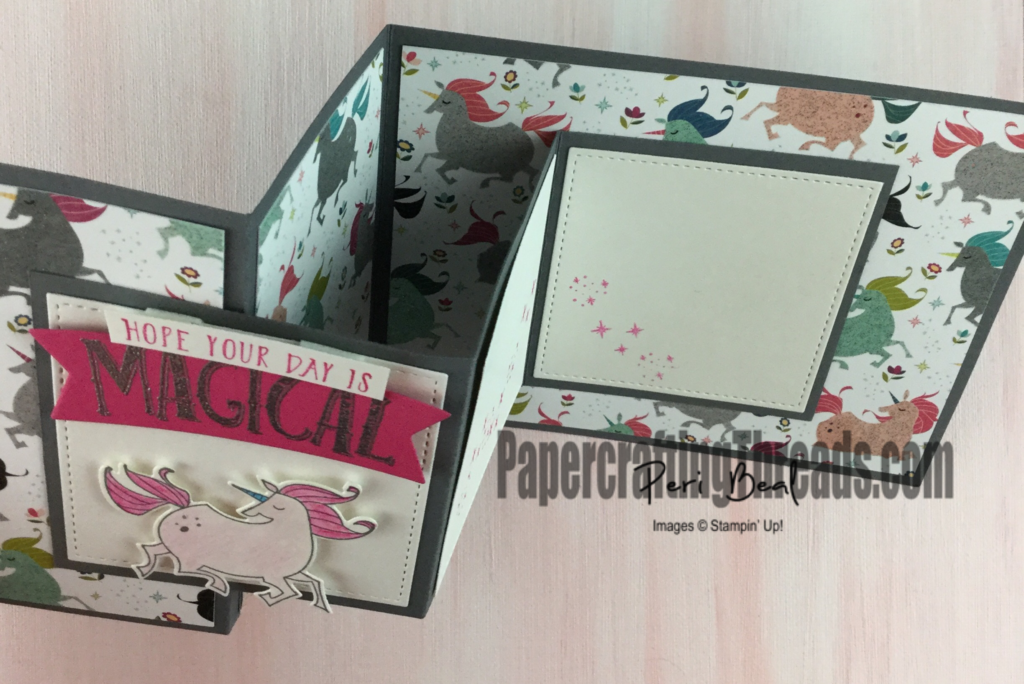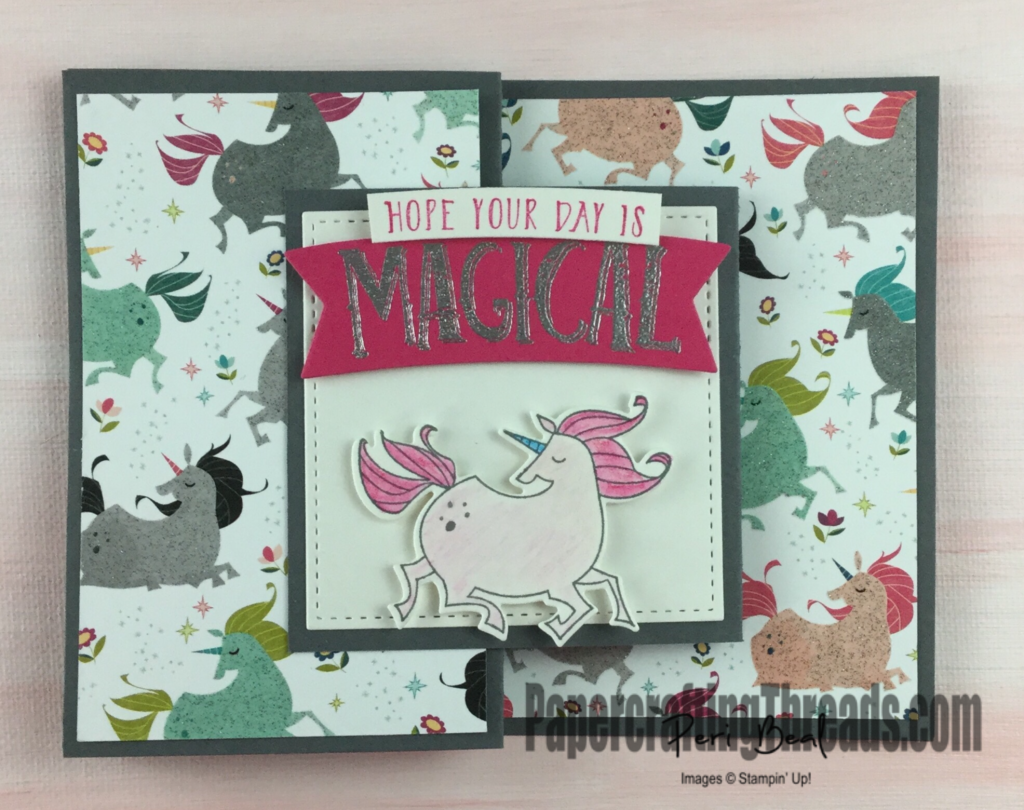 Not only is this Double Z Fold card magical, but today is a magical day. Today is the first day of the new Occasions catalog and Sale-A-Bration.
What is Sale-A-Bration? This year, Stampin'Up! has UPPED the freebie potential. As usual, for each $50 in product purchases, you get to choose a free item from the Sale-A-Bration brochure. And new this year are additional items for every $100 spent, like an awesome set of dies.
The starter bundle offer is outstanding too. For just $99 you get a completely customizable bundle, plus two free stamp sets (up to $101 total), free shipping and an additional $25 in free product. And there are no strings attached–your $99 also gets you a discount for six months if purchased in January. No obligation whatsoever except to get a pile of goodies and craft away. Sounds like a deal to me – if you think so too, contact me today and I'll help you get started.
So since it's a new year and a new catalog, I thought I'd make it a magical day as well.
The new stamp set Magical Day cast a spell on me the first moment I laid eyes on it. It has dragons! Wizards! Mermaids! Unicorns! And the matching paper has all of those, plus it has glittery embossed bits! Be still my heart.
The Double Z Fold is one of those cards that's a big wow but is very easy to make, once you know how.
How to Make a Double Z Fold
I cut my Basic Grey cardstock at 11″ x 4 1/4″ and scored the long side at 5 1/2″ and 2 3/4″. Then I cut a second piece of Basic Grey cardstock at 8 1/2″ x 2 7/8″ and scored the long side at 2 7/8″ and just a smidgen under 5 3/4″. Fold each piece to resemble the letter "Z".
I cut my unicorn paper to 5 1/4″ x 4″ and two more pieces at 2 1/2″ x 4″. I used the largest square die from the Stitched Shapes Framelits to cut out three pieces of Shimmery White cardstock.
Adhere the cut pieces as shown to the two Basic Grey base pieces. Then flatten the small z piece so it looks like a square and center it over the back panel of the z peace and adhere. Close the big z piece and wherever the little z piece overlaps it, apply adhesive and press down. Voila, you have a perfect double z fold! Decorate as desired. Below is a list of all the product I used to make my card. Hope your day was magical!