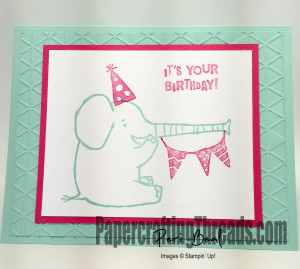 After a month of zero to no crafting due to life getting in the way, I decided I need to make some changes. I want to create and share more often. And a simple card can be just as lovely and provide that creative outlet as a more involved card with many steps. And oh how I've struggled with that concept. The old KISS rule – keep it simple silly – really is true. Anyway, on to my new weekly feature.
It's Throwback Thursday! I'm planning on sharing retired stamps from my stash that need some loving. This adorable little elephant and all his accessories are a part of Henry Says. And Henry says happy birthday!
Colors are Pool Party and Melon Mambo. The Tiny Triangles embossing folder adds texture and interest to the layers.