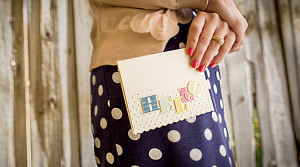 What is a Demonstrator?
A demonstrator runs her own home-based business selling creative products that inspire women and give them helpful ways to enhance their lives.
The Low-Down on Joining Stampin' Up!
Stampin' Up! is just right for you if you dig:
• Creating as a hobby, career or just getting the kit! It's YOUR choice
• Nothing to lose-everything to gain
• Making your own schedule
• Adapting your workload to fit your family's needs
• Forging new relationships with amazing women
• Having a go-to creative outlet that you can share with others
• Getting discounts on wonderful products
• Making extra money
It's Simple
The signup process is easy. Starter kits are a doable $99, and you can completely customize them to suit your individual needs and taste. You get to choose what products you want to start with and what type of business supplies you want. Then the kit is shipped right to your door.
Contact me if you have more questions, or if you're ready, click JOIN NOW to start sharing Stampin' Up!