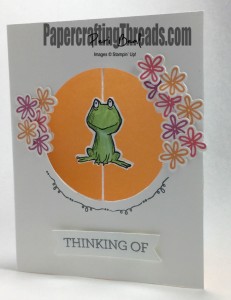 I fell head over heels in love with all of the little critters from the Love You Lots hostess set in the big catalog. This little froggy appears to float in mid air while sending happy thoughts. And he spins! Just 'wind' him up before putting the card in the envelope, and he'll spin around when the card is taken out – too cute.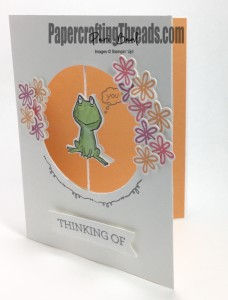 This type of card, floating image or thread spinner, is very easy to make, and looks impressive. My froggy wasn't symmetrical, so to get around that, I inked him up and stamped him on a window sheet. I then pressed the stamped image onto a scrap of cardstock and fussy cut him out. I stamped another image of him onto cardstock like usual, placed it back to back with the already cut out image, and fussy cut again, so my cutting would line up as much as possible. If your image is symmetrical, just ink and stamp twice and cut out.
After I colored the images with ink and a blender pen, I sandwiched a piece of baker's twine between the two frog images with adhesive. For the card base, I lined up a piece of 4 1/4 x 5 1/2 cardstock with the front of my card base and used a circle framelit to diecut through both layers at once. I adhered my frog-on-a-string in the center of the circle on the back of the card front and hid the 'mess' with the extra piece of cardstock.
The tiny flowers are from Swirly Bird, just stamped in Sweet Sugarplum, Flirty Flamingo and Peekaboo Peach inks and diecut with the Swirly Scribbles Thinlit. I layered them around the circle using glue dots.
I had a blast making this card – hope you enjoy it!