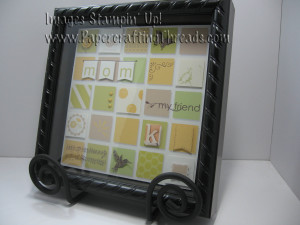 Here it is! Don't worry, my mom already has it in her possession. She got her Mother's Day gift early since she was in town this past weekend. So good to have some Mom time – been waaaay too long!
I created a grid in My Digital Studio, and added my embellishments using stamp brushes, punches, and other elements that reminded me of my mom. Then I printed out several copies. One became the base of my project. I cut out pieces from the extra copies and mounted them on the base using Dimensionals. Added buttons, brads and pearls for more dimension. Then popped the whole thing into a shadowbox frame, and voila, a personalized decor gift.
And best of all, my mom loved it!