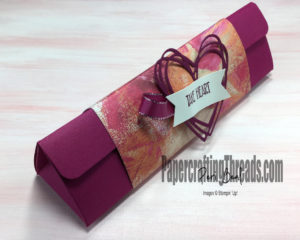 Sign up for my newsletter and get a free, bonus, downloadable pdf of instructions on how to make this Triangular Box. Why is it triangular? Look at the ends – triangles! It's super easy to make. I made a Valentine version as shown above for the tutorial.  The newsletter freebie is easily customized to any holiday or any recipient just be swapping out the paper and accessories.
I send out my newsletter via email around the beginning of each month.  My newsletter includes color inspiration, tips and/or tricks, specials, and project samples and/or instructions. Occasionally I'll send an extra email blast letting you know about a great special that's for a limited time only.
Want more inspiration than once a month? For more stamping inspiration, check out my Instagram channel. You'll find more project samples, as well as photos of things I find inspiring. I usually post 3-4 times a week. I ❤️ Instagram – as the old saying goes, a picture is worth a thousand words!
And I'm over on Facebook, so follow me there, too, as I  post different things in different places.
See you on the inter webs!