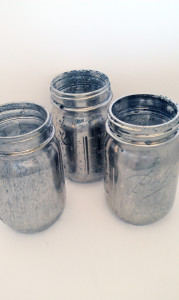 Love mason jars and all the different ways you can enhance them. For faux mercury glass, read on!
Supplies: clean mason jars, water, vinegar, spray bottle, paper towel, Looking Glass spray paint (I used Krylon brand)
Directions:
Mix 1 part water with 1 part vinegar in spray bottle and shake to combine. Spray outside of mason jars with water/vinegar mixture. Spray mason jars with Looking Glass spray paint. Let dry for a little bit. Rub off some of the paint with the paper towel. Done!
Now for the hard part – deciding what to put in your faux mercury glass mason jars 🙂