Want a fun paper escape? Don't have much time? I have a solution for you – introducing My Paper Pumpkin! This easy to use program starts in March. All supplies are cut, prepped and shipped directly to your door.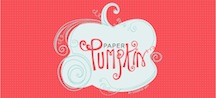 See how you can get in on the fun.
If you sign up for My Paper Pumpkin and choose me as your demonstrator, let me know by emailing me so I can send you a special handmade card.
I can't help but be reminded of Archie Campbell's version of Cinderella from HeeHaw. Does that date me? Anyway, check it out on YouTube. I guarantee you'll never think of Cinderella the same way.