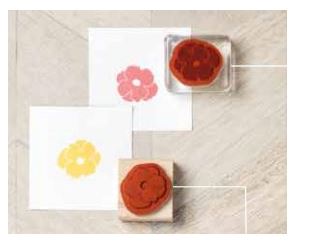 Every project – and every stamper – is just a bit different which is why Stampin' Up! offers unique styles of stamps. All stamps are made in the United States and are packaged in uniformly sized cases with images on the side for easy storage and quick reference. The stamp medium is listed in each stamp set description. Here are the three types of stamps produced by Stampin' Up!
Classic Rubber Clear Mount – Made using high-quality rubber that allows for detailed images. Come with a compact set of stamps ready to mount on reusable clear blocks (sold separately). Work your stamping magic, then remove the stamp from the block and store everything away for your next project.
Classic Rubber Wood Mount – Made using high-quality rubber that allows for detailed images. Come in larger plastic storage cases and include both stamps and one maple wood block per stamp (in coordinating sizes). Once you've mounted the red rubber stamp on the block, it will always be ready for you to used right out of the box.
Photopolymer – The transparent nature of photopolymer stamps makes it easy to line up images for precision placement. Mount the stamps on reusable clear blocks and see where creativity takes you! Some advantages to using photopolymer stamps are – 1) mix & match – combine multiple stamps on a single block; 2) repeating patterns – create backgrounds by repeating images to fill the page; 3) clear alignment – perfect for alphabet sets or builder stamps; 4) two-step – layering two or more stamped images is called Two-Step Stampin. Look for sets throughout the current catalog marked as Two-Step.