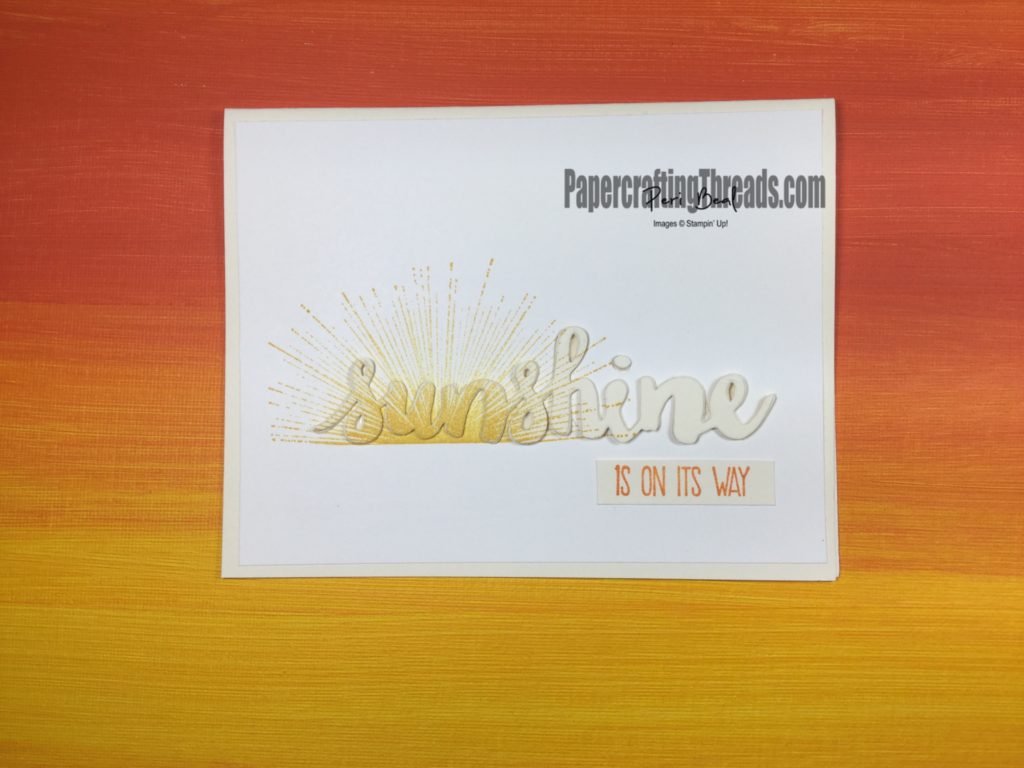 In honor of the longest day of the year, the summer solstice. Had to do something that was quick, as I thought June 21 was the day, but it can be June 20-22, depending on what time zone and what hemisphere you're in 🙂
And the best part when making this card? A second card with hardly no extra work!
Stamp the sun rays on a piece of Whisper White cardstock measuring 5 1/4″ x 4″ using the Stamp-a-ma-jig for exact placement. Stamp the rays again on a piece of Very Vanilla cardstock cut to the same measurements and in the exact same position.
Layer the cardstock pieces on top of each other, place the "sunshine" thinlit on top and run through the Big Shot several times, cutting out the word on both pieces at the same time.
Cut the word "sunshine" out from scraps of Whisper White and Very Vanilla 4 times each. Stack and adhere the plain "sunshine" 4 high, and adhere the matching stamped "sunshine" as the top layer.
Adhere the original Whisper White cardstock with the empty word space to a Very Vanilla card base. Adhere the stacked Very Vanilla "sunshine " over the empty word space. repeat on the other card, reversing the color layers.
Stamp the sentiment on strips of cardstock with Versamark and Peekaboo Peach ink, emboss with clear embossing powder and adhere to card front.
See the opposite color scheme card below the supply list.