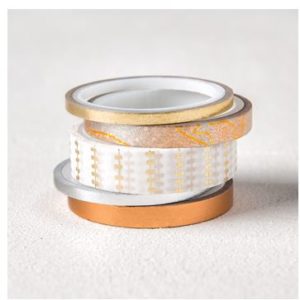 Washi tape is one of those embellishments that I can't seem to get enough of. It makes for wonderful focal points and accents on cards and scrapbook pages. But what else can you do with a drawer full of washi?
1) Cover the base of battery-operated tealights and use the same washi tape to "seal" the matching paper gift box you make.
2) Wrap different widths and coordinating designs of washi tape around a plain glass vase.
3) Make a bookmark by inserting a piece of washi tape through the big loop end of a paperclip and sticking it back on itself.
4) Run a piece of washi tape the length of a pincer-type clothespin and use the clothespins to hang up your cards.
5) Cover the barrel of a pencil by cutting strips of washi tape the length of the pencil, rolling the tape around the barrel, and trimming the ends as needed. Or wrap strips of washi tape perpendicular around the barrel for  more flair.
6) Create a custom photo frame by adhering a favorite photo to cardstock or designer series paper. Tear washi tape strips and place around the photo to make a frame. Decorate a binder clip with another piece of the washi tape and clip it to the top to hang your photo.
And a BONUS use for washi tape – use it to make tabs for your Stampin'Up! catalog. There is no end to what you can use washi tape for. What will you washi?