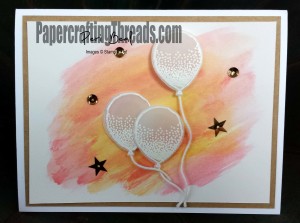 Puffed up balloons, shimmery paper, watercolor background, and sparkly sequins all scream 'it's party time'.
I stamped 3 balloons from Balloon Celebration on vellum cardstock with Versamark. I embossed with white embossing powder and heat set with the heat tool. I punched out those 3 embossed balloons with the Balloon punch, and punched out 3 more balloon shapes. I turned the stamped balloons face down on a Stampin' Pierce Mat, and used the round end of an Aqua Painter to press around the edges of the balloon shape until the balloon 'puffed up'. Place a dimensional on the back towards the bottom, so the dimensional is hidden by the embossing. Take a length of white baker's twine and run it over the edge of a bone folder until it curls slightly. Place the baker's twine on top of the dimensional at the base of the balloon and place a plain balloon over it. Voila, puffy balloon! Repeat two more times and set aside.
Load up the lid of Daffodil Delight ink pad, dip the tip of the Aqua Painter in the pooled ink, and randomly paint on a piece of Shimmer White cardstock. Repeat with Peekaboo Peach and Flirty Flamingo inks, squeezing the Aqua Painter between colors to clean the brush.
Layer mats using SNAIL. TIP: Use vertical swipes of SNAIL on the back of the shimmer cardstock and use horizontal swipes on the front of the mat to create a super strong hold!
Use the Fine Tip Glue Pen to adhere gold sequins and use Glue Dt to adhere the bottom two balloons. Use a dimensional to adhere the top balloon.
Here are some closeups so you can see the dimension and the shimmer.